Dirt-cheap toys come at a price.
Temu is an app and website that shoppers can use to purchase products for rock-bottom prices across several different categories, including toys, games, apparel, accessories, and home goods. The site is incredibly focused on bargain shopping, with crossed-out prices, discount codes, try-your-luck popups, flash sales, and dozens of products listed for less than $1.
It's tempting to give it a chance — after all, your financial investment is so small! But there are other factors to consider before tapping "add to cart" on Temu.
Temu Is Home to Counterfeit Toys
According to its website, Temu was founded in Boston last year, but it defines itself as an online marketplace that "ships its products from a global network of suppliers and manufacturers" with "shipping origins [that] can vary depending on the product being purchased." In short: A lot of this stuff is coming directly out of China.
Why is that problematic for consumers? Several reasons. Some product listings are counterfeit products, designed to look like a toy from a legitimate manufacturer, sometimes even using that manufacturer's original photography. Quality assurance also becomes a problem, with many consumers reporting damaged packaging, receiving products different from the listing, missing pieces, and other issues. There have been nearly 1,000 customer complaints about Temu.com to the Better Business Bureau, which has given the website and app a C+ rating.
Educational Insights's popular Kanoodle brainteaser puzzle, which has more than 560 million views on TikTok, retails for $12.99, but Temu shows counterfeit products for as low as $4.61 that use Kanoodle images and branding in their product listings. Unwitting shoppers think they are getting a great deal on the game they see all over TikTok, but what is delivered is an inferior product.
"Consumers express that they feel duped that they didn't receive a real Kanoodle, and they know instantly that they won't be able to participate in the same entertainment experience as all their friends in the TikTok community — until they have a real Kanoodle puzzle game in their hands," explains Lisa Guili, general manager at Educational Insights.
One reviewer on a knock-off Kanoodle listing recognizes the imposter product after purchasing, writing, "Nice game but I order thinking it's like the one from tiktok where you shake it and it moves to start the puzzle it doesn't."
And why wouldn't they assume they are purchasing the "real" Kanoodle? The product listing uses genuine Kanoodle imagery, after all. Swindling unsuspecting shoppers is a big problem, and not just because it's disappointing to get something different than what you were expecting. Misleading product listings can also pose major safety hazards.
Temu Toys May Not Be Safe
Of all the issues with products listed on Temu, the biggest concern related to toys is product safety. There is no concrete evidence of safety standards and testing for toys from illegitimate marketplace sellers.
We purchased a product called "Intellectual Development Practice Rainbow Color Decompression Board" from seller Miqil HK, which is a direct knock-off of Fat Brain Toys' dimpl digits. In the product listing on Temu, the seller even uses video footage that clearly shows the Fat Brain logo in the center of the toy. The counterfeit fidget toy is listed for $4.98, while dimpl digits sells for $19.95 on fatbraintoys.com.
The products are far from identical, with many differences in texture, quality, color, size, and construction, but most concerning of all: There is no evidence that the Temu toy has been safety tested or meets any of the U.S. safety standards for toys.
In fact, the counterfeit toy does not have any safety information at all, and the product came packaged in a plastic sleeve with no information, either.
The intended audience for the Temu toy is listed as 14+, but the play pattern is clearly intended for a younger audience. Reviews indicate that shoppers are purchasing the toy for younger kids, with one review from July 2023 stating, "baby and toddler love this."
It's likely that the 14+ age recommendation for the fidget toy on Temu is one of the many ways these sellers get around toy safety standards in the U.S. ASTM F963-17 is the national safety standard for toys sold in America. It covers chemicals and heavy metals, mechanical and physical properties, electrical safety, small parts/choking hazards, and flammability for toys designed for kids under the age of 14. The standard helps ensure harmful chemicals and materials like lead paint and BPA plastics stay out of kids' toys.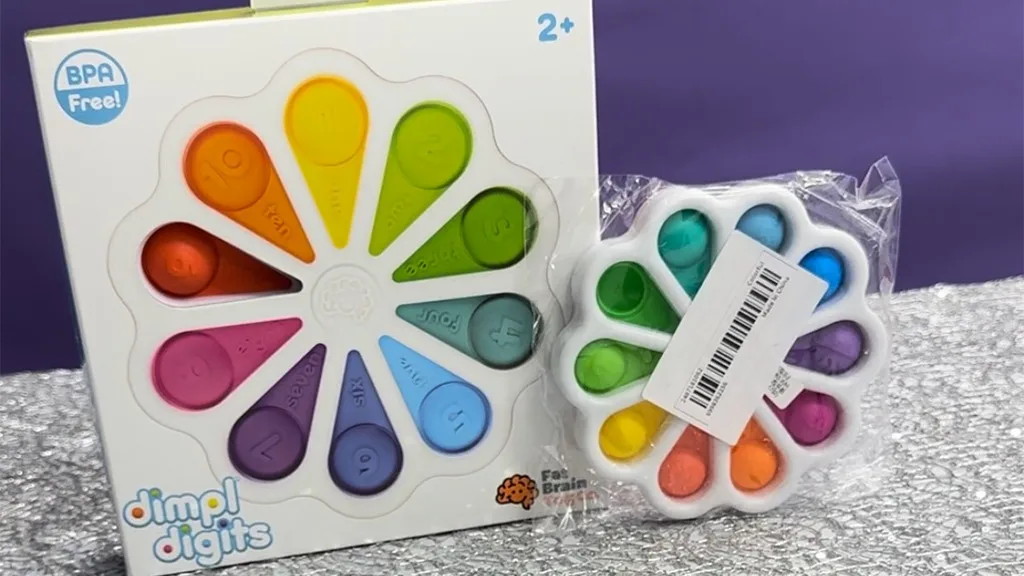 On the other hand, the dimpl digits product listing on fatbraintoys.com states that the dimpl digits frame is made with quality ABS plastic and the buttons are made of 100% food-grade silicone. The box the toy comes packaged in also indicates that the toy is BPA-free and clearly lists its 2+ age recommendation.
According to The Mayo Clinic, BPA is of significant concern in infants and young children, indicating exposure to this chemical can lead to increased blood pressure, type 2 diabetes, and cardiovascular disease. The Centers for Disease Control says that lead-based paint is one of the most "hazardous sources of lead exposure for young children in the U.S." Elevated lead levels can have permanent effects, including lower intelligence, learning disabilities, and behavioral issues.
The Toy Association's Senior Vice President of Standards and Regulatory Affairs Joan Lawrence stresses the importance of purchasing toys from trusted retailers and manufacturers in the U.S. "Counterfeit sellers don't care about complying with laws, and they often skirt compliance with product safety laws, too," Lawrence explains. "A reputable seller will comply with all applicable safety laws, so we always recommend that consumers try to shop directly from the brand or from one of its official retailers."
Fat Brain Toys makes dozens of toys for toddlers, and unlike Temu sellers, the toy company makes safety a paramount concern when producing its playthings.
"Our reputation as a toy brand is synonymous with quality, which goes hand-in-hand with safety," says Mark Carson, president and co-founder of Fat Brain Toys. "Not only do we adhere to all required U.S. safety tests like ASTM and CPSIA, but we have our own safety benchmarks that go above and beyond most safety standards. For example, if a toy is designed for a child below 3, extreme care must go into the design to ensure that small parts never become a choking hazard. While most companies would be content to weld or glue components, we go the additional step to add metal screws to add redundancy and ensure safety for the life of the toy," he explains.
Temu Toys Have Questionable Quality
In addition to safety concerns, toys sold on Temu also suffer from poor quality, missing components, and damaged packaging.
We purchased a "Rainbow Spinning Stacking Toy" from Temu (the listing has since been removed) for $4.27, which is a knock-off of Fat Brain Toys' very popular toddler toy SpinAgain, which sells for $34.95.
The Temu toy arrived in a damaged box that was completely crushed on one side. The parts were all shoved inside of the box, which also featured confusing call-outs and improper English. The packaging design is also extremely similar to Fisher-Price's packaging, mocking its colors, patterns, and holding shapes, which could further confuse shoppers into thinking the toy is part of a collection from a trusted brand.
The pieces hardly fit together, the weight and texture of the rings were clearly different from those of SpinAgain, and the disks had a hard time spinning down the corkscrew pole on their own. While the Temu knock-off costs less than $5, giving this toy to a toddler could lead to frustration during playtime and could potentially expose them to harmful chemicals and materials, so the perceived value is not even worth the minimal spend.
Kent Displays, makers of the popular Boogie Board writing and drawing LCD tablets, sells its 8.5-inch Jot tablet for $24.99, but a Temu search for "Boogie Board" brings up several copycat products for as little as $3.55.
"While we of course can't speak to how others are conducting business, we know from the extensive copycat research that our team has done that these models are made with low-quality materials that could easily carry the potential for safety risks," says Dr. Asad Khan, CEO of Kent Displays. "Outside of safety, we know these products underperform in multiple areas, including product lifespan."
In addition to working diligently to get the counterfeit product listings removed from Temu and other online marketplaces, Kent Displays is also taking a bold approach to convert anyone who has purchased a knock-off tablet into a lifelong Boogie Board Fan.
"Our recently launched Boogie Board Swap Program allows anyone who owns a copycat LCD tablet toy to enroll and receive a free Boogie Board toy so they can experience the superior quality and magic of our tech as it's meant to be," Asad explains.
The Rainbow Stacking Toy listed on Temu, which is a counterfeit product based on Fat Brain Toys' SpinAgain features product packaging that mimics Fisher-Price's styling in an attempt to trick shoppers. | Source: The Toy Insider/Temu/Fisher-Price
Counterfeit Toys Are Unethically Produced
Incredibly low price points are too good to be true, because they come at a cost, including negatively impacting the planet, exploiting workers, and compromising on product safety. If you find yourself looking at a Temu product listing and thinking, "How is it so cheap?!," forced labor and other unethical labor practices could be part of the problem.
The ICTI Ethical Toy Program (IETP) is a non-profit organization dedicated to mitigating labor risks and realizing a safe and ethical workplace for workers in the toy industry. "While we cannot comment on any specific retailer or retail platform, the retail price point will always reflect the cost of manufacturing and other costs such as quality and safety compliance," says Carmel Giblin, CEO of IETP. "From our perspective, the cost that is paid to the factory producing the goods should enable workers in that factory to be paid appropriately, to work in safe conditions, and have their rights respected."
The Difference Between Amazon and Temu
Shoppers familiar with Temu often compare it to Amazon, since both sites are loaded with millions of products, and you can find pretty much anything you want in a few quick clicks.
It's true that Amazon is also a global marketplace with thousands of third-party sellers and no-name toys coming out of China. However, Amazon and Temu differ in a few major ways. In addition to its marketplace, Amazon also sells and ships products from its own warehouse. These products are acquired directly from the manufacturers and are backed by Amazon's customer support and return policies. They also meet U.S. safety standards and protocols. Plus, thousands of reputable brands have their own storefronts to sell their own products on Amazon, meaning there are thousands of legitimate products available on the online shopping platform, in addition to the off-brand items sold by third parties (which we highly recommend avoiding).
Above, you'll see details for three different product listings. The one on the left is a legitimate Amazon product, shown by the fact that the product is both "shipped from" and "sold by" Amazon. The middle listing indicates the product is shipped from Amazon, but sold by Boogie Board, the product's manufacturer, which is also a great option. The third item, however, is shipped from Amazon, but sold by a third-party, marketplace seller, and therefore, is not guaranteed to be safe, quality tested, or subject to Amazon's support, return, or exchange policies.
Amazon also has a Counterfeit Crimes Unit, which according to its website, "works with brands, law enforcement, and customers across the globe to stop bad actors and hold them accountable." Amazon users can also report any products they believe to be counterfeit, unsafe, or otherwise problematic themselves with ease — the feature is prevalent on every single product page on the online retailer's website. IP infringement on Temu must be submitted via email, which you can access by clicking through several layers of the site's support and policies.
The Best Deal Is Not Always the Best Choice
Toy testing costs manufacturers money. Quality packaging costs money. Quality materials cost money. Reliable customer service — you guessed it — costs money. All of these things benefit shoppers and kids alike, and all of these things contribute to higher-priced toys. But it's important to keep kids' safety and overall play value in mind. Toys from trusted, vetted manufacturers offer educational benefits, are safe to play with, and last.
"Can you find knock-off versions of our toys for less money? Yes, of course. Are they equivalent? Not even close," says Fat Brain's Carson. "To reduce prices, toys can always be produced with cheaper materials and poor workmanship, and take shortcuts like skipping safety testing, but it's difficult for me to imagine why any parent would knowingly take that risk to save a few dollars."
Every toy found on thetoyinsider.com is made by a trusted manufacturer and sold at vetted retailers. Our Holiday Gift Guide features more than 360 toys from more than 70 U.S. manufacturers, and they all meet our basic product quality standards and rank high on our five-point play criteria.
When shopping for toys this holiday season — and always — consider the fact that if a toy ends up in the trash, it's not a great deal at any price. Avoid the potential harm toys that you purchase on Temu could cause, along with frustrated kids and parents. Investing in quality toys from reputable manufacturers and retailers is ultimately an investment in the overall wellness of today's kids and future generations.
---
Disclaimer: The request for comment from Temu has gone unanswered at this time. Fat Brain Toys, Kent Displays, and Educational Insights are advertising partners of The Toy Insider, though this article is in no way sponsored by any toy manufacturers and the thoughts and opinions are those of the author.