Guess what, parents? Super Mario Bros. Wonder is officially the best way to introduce your kids to the world of classic Mario games. Super Mario Bros. Wonder is Nintendo's first 2D sidescrolling Mario video game for a console in more than 10 years. 
A new Mario-themed Nintendo Switch is also available now for $349.99. The dock of this Switch is all red with matching Joy-Con controllers. It features a silhouette of a jumping Mario and has hidden coins behind the back panel.
In Super Mario Bros. Wonder, Prince Florian invites Mario and his friends to the Flower Kingdom when Bowser merges with Prince Florian's castle. Mario and his friends must reign in the chaos spreading across the Flower Kingdom and save the day.
Up to four people can play in local co-op on one Nintendo Switch system. Players who die in the game will float around the course as ghosts, but if another player reaches them before time runs out, they'll jump right back into action, and the group won't lose any lives. Players can also play online in a shared room, competing with other players in races against friends or players around the world.
The game also features new items that have different effects on the game and characters. When players touch Wonder Flowers, the terrain adjusts to include moving pipes, tilting platforms, and perception changes. Other types of Wonders can even turn characters into a Goomba or a Spike-Ball. The game also features new power-ups like the Elephant Fruit, which allows Mario and some of his friends to transform into elephants that can use their trunks to attack enemies, destroy blocks, and more. Players can defeat enemies with the Drill form while the Bubble form helps characters bounce. Players can also earn in-game badges with special abilities, including Wall-Climb Jump, Crouching High Jump, Dolphin Kick, Grappling Vine, and more badges.
Even if kids are already Mario experts at heart, Super Mario Bros. Wonder is a great gift for young gamers this year.
---
SUPER MARIO BROS. WONDER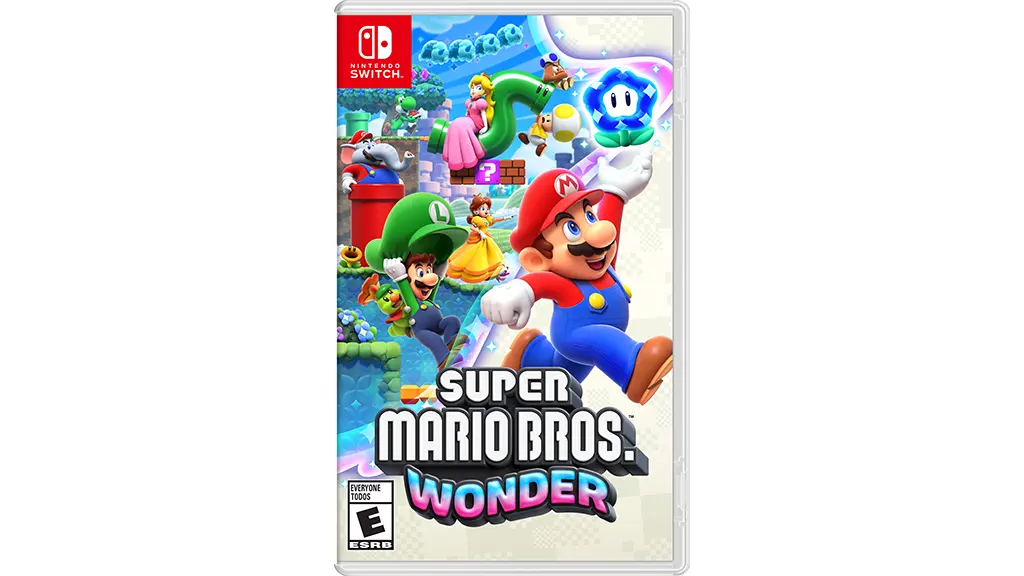 Classic Mario side-scrolling gameplay is turned on its head with the addition of Wonder Flowers, which trigger unexpected moments in a course, such as pipes coming alive, characters transforming and more.
Buy Now