Super Mario Bros. Wonder is the latest game in the long-running Super Mario Bros. series and the latest addition to Nintendo's larger world of Mario. 
In the game, players play as Mario, Luigi, or one of many other well-known characters from the franchise. You must traverse the Flower Kingdom, a land near Mario's beloved Mushroom Kingdom that has been taken over by the ever-evil Bowser.
The game marks something of a return to form for the series, utilizing the classic 2D, side-scrolling setup that first popularized the Italian plumber brothers back in the ''80s. Kids must move through a wide variety of levels in which they jump (or swim, or slide) amongst walls and platforms. As you go, you avoid enemies, smash blocks, collect coins, and more. 
This form of gameplay is simple enough to learn that the game serves as a wonderful entry point to the world of Super Mario Bros. For that matter, the game's colorful graphics and relatively low stakes make it an excellent entry point to console video games for tweens and young teens. When you run out of lives, you don't have to go back very far or lose your previous accomplishments. There also isn't graphic violence, and the plot is easy to follow. Yet, completing the levels successfully does require quick reaction time and strong hand-eye coordination, making the game more of a technical challenge than cozy games like Animal Crossing.
However, the game also offers plenty of innovation that will excite Mario fans of any age or experience level. One of the new features is a special power-up that turns your character into an elephant! The effect is not only silly and fun, but it also introduces new ways to defeat enemies and interact with the game environment.
Perhaps the most interesting update, however, is the Wonder Flowers. These are seed-like items that players will encounter throughout the game. It's important to collect them to be able to progress forward, but touching the seeds also has an immediate effect. They completely transform the level that kids are currently playing, altering the gameplay in some unexpected or surprising way.
All of these factors make Super Mario Bros. Wonder an excellent exercise in problem-solving and patience. Kids will certainly need to think ahead and learn as they go when completing the levels, which are valuable skills! Plus, it's possible to finish a level without catching all of the available Wonder Flowers, which means kids will often need to go back and retry the levels to get the best possible outcome. Players also get a lot of control over which level they play next, which is incredibly helpful. If you are really stuck on a certain level, you can take a break and try a different level, or complete a shorter, mini-game style adventure that is an easier win. Even as an adult player, this kept me from feeling as stuck or frustrated while playing.
And while kids are sure to enjoy the game on their own, its strength really lies in its two-player capabilities. When navigating these levels alongside another player, kids will need to communicate as effectively and have patience with their other player, who may approach the digital challenge in a different way. Players are working together toward a common goal, and the levels become much more manageable when two characters are on deck to take down the baddies or collect as many coins as possible. Players can even bring each other back from losing a life, which means fewer level restarts! It is possible to play with other gamers online, but parents can disable this feature to ensure an age-appropriate gaming experience.
Overall, this game is a great gifting option for teens or tweens who already love Mario, or who are ready to get deeper into the world of video games. Just remember that kids also need a console from the Nintendo Switch family of systems to play the game!
---
SUPER MARIO BROS. WONDER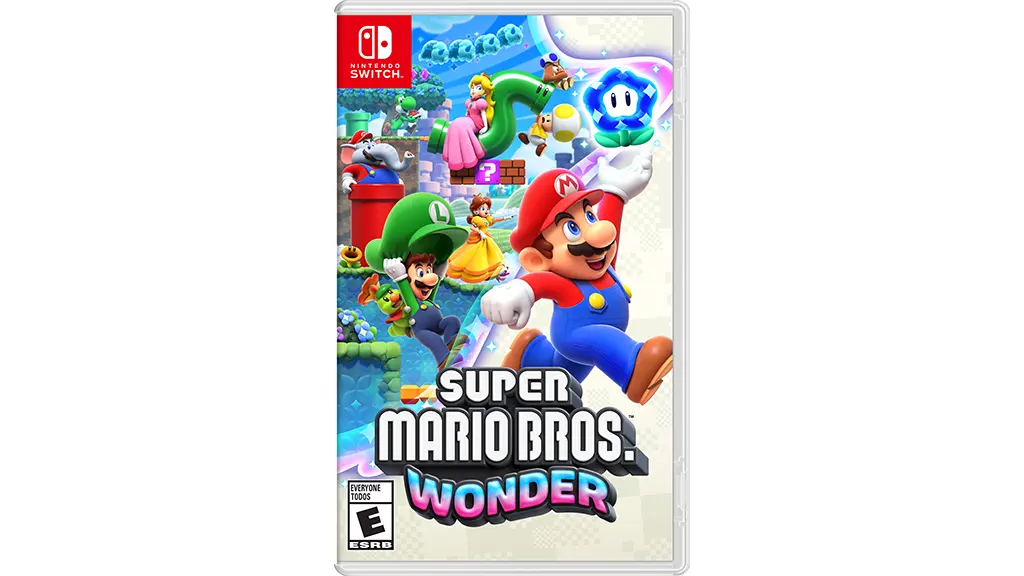 Classic Mario side-scrolling gameplay is turned on its head with the addition of Wonder Flowers, which trigger unexpected moments in a course, such as pipes coming alive, characters transforming and more.
Buy Now